MoveSpiration GERMANY – July 2020
A 4-day Crosstraining Experience for Dancers of all Levels.
An immersive weekend, featuring Bellydance, Ballet, and Korean Martial Arts by Khalida's favourite teachers.
Your dancing will never be the same!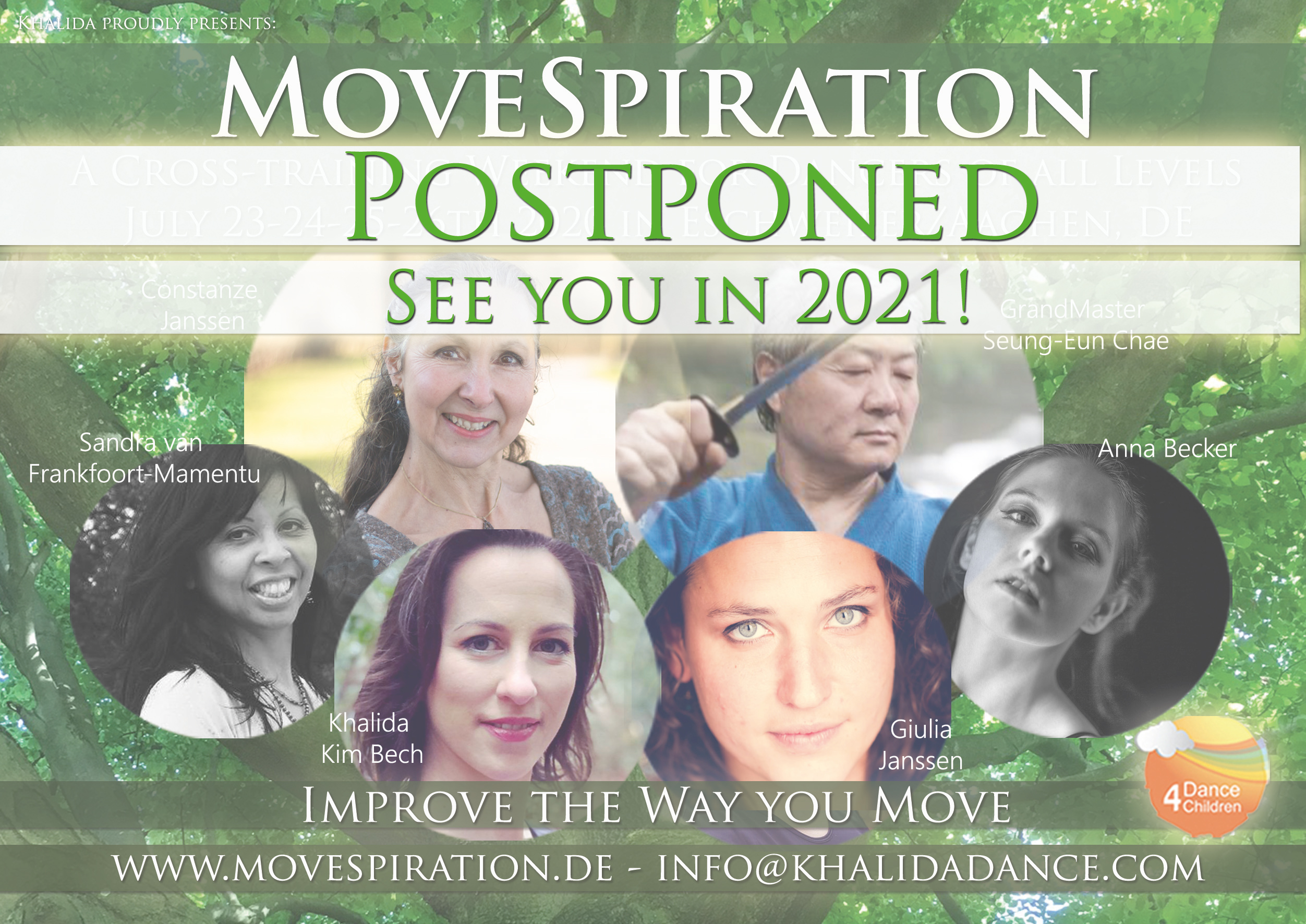 MoveSpiration Germany will take place in Eschweiler/Aachen in Summer 2021
Pre-Enrollments will open in July 2020 – Limited number of participants!


Supporting a good cause! Like every year, a percentage of proceeds of the Event will be donated to Dance4Children.be – working together to support multiple good causes through various projects and events.
I hope this weekend will bring you inspiration, joy of movement, and dance motivation for years to come.
Our MoveSpiration 2021 Teacher Team
Dates
Summer 2021 (Date to be announced soon!)
Location

Price
Price for the full weekend (4 days of classes): 315 Euros.
Includes
4 Days of Movement, Martial Arts and Dance Classes (Th-Fr-Sa-Su)
Do-it-yourself sandwich mini-buffet/studio lunch on all class days (Th-Fr-Sa-Su)
Guided Woodland Walk on Thursday (weather permitting)
Demo night at the Studio on Saturday, with the opportunity to perform for participants
Certificate and Goodie-bag surprise! <3
Enrollment Procedure
After your enrollment via the form below (coming soon!) you will receive a confirmation email with bank details.
The following payment options are available:
PP1 – Non-refundable Enrollment Fee (140E) by bank transfer after enrollment, remaining balance (175E) in cash on the first day of the MoveSpiration Weekend.
PP2 – Non-refundable Enrollment Fee (140E) by bank transfer after enrollment, remaining balance (175E) by bank transfer at a later date.
Refund Policy

There can be no refunds for this event. In exceptional circumstances we will allow a transfer of your enrollment, and/or help you find another participant who might be able to take your place.
Let's (En)Roll!
Pre-enrollments for the 2021 edition will open on this page in July 2020.
Check back soon for the pre-enrollment form!