MoveSpiration is a 4-day crosstraining event in Germany, which aims to bring together dancers of all levels to share a love for learning, movement and inspiration.
I'm happy to announce that MoveSpiration Germany will take place on 23-24-25-26th July, 2020.
Enrollments are now open via the form below – Limited number of participants!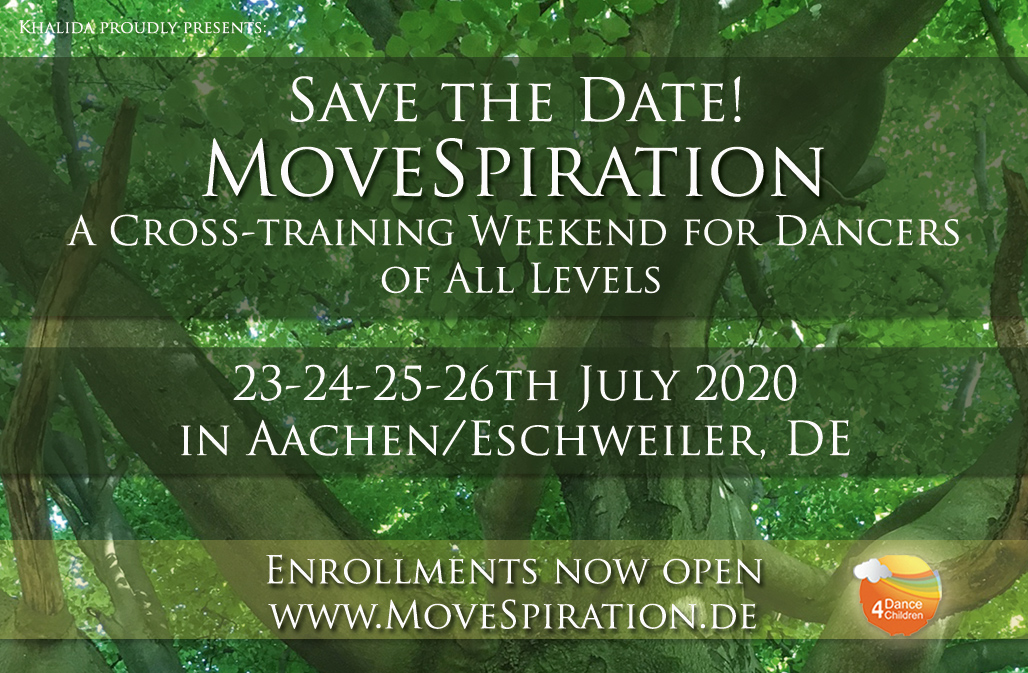 Supporting a good cause! Like every year, a percentage of proceeds of the Event will be donated to Dance4Children.be – working together to support multiple good causes through various projects and events.
I hope this weekend will bring you inspiration, joy of movement, and dance motivation for years to come.
Our MoveSpiration 2020 Teacher Team
Date
Thursday-Friday-Saturday-Sunday 23-24-25-26th July 2020
Location

Price
Price for the full weekend (4 days of classes): 295 Euros.
Enrollments
Enrollment fee (140 Euro) is payable via bank transfer or paypal after enrollment.
Remaining balance (155 Euro) is to be paid in cash on the first day of the MoveSpiration event.
Refund Policy

There can be no refunds for this event. In exceptional circumstances we will allow a transfer of your enrollment, and/or help you find another participant who might be able to take your place.
Let's (En)Roll!
Fill out the form below to sign up for MoveSpiration July 2020!
Thank you!
Looking forward to sharing the MoveSpiration experience with you! If you have any questions about this event please don't hesitate to Contact me.
xx Kim/Khalida and Team MoveSpiration
Practical Info
MoveSpiration Schedule

A preview (details might change!) of the weekend schedule for July 2020
Thursday 23rd July 2020
10:30-11:00 Arrivals & Welcome @ Master Chae's MuDoJang in Eschweiler
11:00-15:30 Classes – including lunch break
16:30-18:00 Guided Woodland Walk (weather permitting) in Eschweiler Wald
18:30 Optional Group dinner (near Eschweiler Wald)
Friday 24th July 2020
9:30-10:00 Arrivals @ Constanze's Ballet School in Aachen
10:00-17:30 Classes – including lunch break & minibreaks
Free evening!
Saturday 25th July 2020
9:30-10:00 Arrivals @ Constanze's Ballet School in Aachen
10:00-17:30 Classes – including lunch break & minibreaks
19:30 Demo night!
Sunday 26th July 2020
9:30-10:00 Arrivals @ Constanze's Ballet School in Aachen
10:00-16:30 Classes – including lunch break & minibreaks
16:30 Certificates & Goodbyes <3
Food and Drinks
We will be providing (tap)water, coffee and tea during the day on all class days, as well as a small 'do-it-yourself' sandwich lunch buffet. There is no cafeteria in the studio, but you are allowed (and advised!) to bring your own snacks/lunch with you for during the day on both days. As we will be moving a lot (ballet and floorbarre) before the lunchbreak it's advisable to have a 'sturdy' (ie protein-rich) breakfast in the mornings.
Getting There
By Public Transport
The nearest airports with good train connections to Eschweiler and Aachen Hbf are DUS (Düsseldorf) and CGN (Cologne).
There might be carpooling options from DE, BE and NL for the event. After you sign up for the weekend you will get access to a (closed)  'Rides and Roomies' FB Group where you can connect to your fellow MoveSpiration participants.
If you need any help getting from the train station to your accommodation on arrival please let me know beforehand, and I will do my best to assist you.
By Car – Parking Options
Master Chae's Dojang does not have a dedicated parking space, but you can park for free in the Jülicher Strasse.

Constanze's Ballet School Renoldi has a free parking on the right side of the building.

 Note: The Ballet School is located within the 'Aachener Milieu/Environmental/Umwelt Sticker Zone' – information about how/where to aqcuire a sticker will be added to the enrollment info email. The 'Aachen Westfriedhof P&R' parking, lies just outside the Environmental Sticker Zone (see map below) – from there you could arrange a carpool with other participants of the weekend.
Accommodation
Hotel Baccara is at about 15 minutes walking distance, and about 6 minutes by car.
Further accommodation venues can be found nearby using Booking.com and AirBnB – Tip: If you need any help with logistics and/or finding affordable accommodations near the studio, please contact me and I will do my best to help out.
There is also the option to 'camp out' at the ballet studio during the weekend. If you'd like to make use of this offer please contact me.
See our (private) 'Rides and Roomies' FB Group to check where other MoveSpiration participants will be staying during the weekend.
If you need any advice/assistance regarding travel and/or accommodation please don't hesitate to email me via the Contact page.