Interested in hiring Khalida? Contact us for more information and Click here for a list of possible workshop topics.  Bookings now open for 2019.
"You're just awesome Khalida!!!! A true professional. Strong, dedicated and humble. You keep growing and challenging your self as an artist."
2018
August
Fr-Sa-Su 24-25-26 August 2018 - Aachen, DE - MoveSpiration Weekend - Crosstraining WS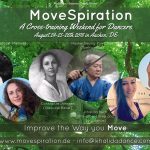 Weekend

MoveSpiration - A crosstraining weekend for dancers, @ Ballettschule Renoldi in Aachen, DE (near the BE/NL border)
3 days of inspiration movement/dance/martial arts classes with Khalida and her favourite teachers in Dance and Martial Arts. A unique opportunity for dancers of all levels! <3
Enroll & Info: www.movespiration.de - Only 4 spots left!
November
Sa 24 November 2018 - Brussels, BE - Oriental4Children - Show - NEW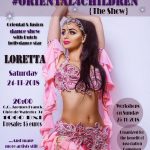 I am very happy to be part of the amazing lineup of this year's Oriental4Children show featuring Loretta of NL in Brussels, BE on Saturday 24th of November 2018.
All proceeds of the show (and Loretta's workshops!) will go to a very good cause, facilitated by the Dance4Children team.
Tickets are now available via info@dance4children.be
2019
February
Fr-Sa-Su 01-02-03 February 2019 - Holbaek, DK - Workshop Weekend with Khalida - NEW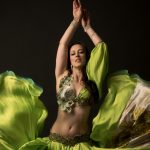 I am looking forward very much to returning to Holbaek, Denmark for the third time, teaching a full weekend of bellydance workshops.
Enrollments via www.holbaek-mavedans.dk
More details to follow soon!
Sa-Su 09-10 February 2019 - Würselen, DE - Boženka Love Workshop Weekend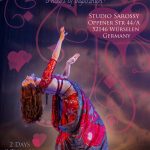 2 Days of pure bellydance bliss with the legendary Boženka (Cuba/USA)! Come and join us for 8 hours of exquisite dance training on Sa-Su 09-10th February 2019. A unique opportunity to study in depth with this amazing artist.
Enrollments are now open. Max 20 participants!
Enroll & Info: www.khalidadance.com/bolove - SOLD OUT! Waiting list opened
May
Fr-Sa-Su 24-25-26 May 2019 - Plakiás, Crete (GR) - Boženka's DancEscapade Weekend with Khalida - Featuring Anna Barner of Denmark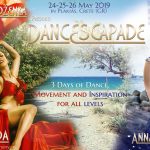 DancEscapade is a three day dance getaway on the Greek island of Crete, that aims to bring dancers together who share a common love for movement, nature, culture, amazing food and sun and fun.
We are happy to announce the amazing Anna Barner of Denmark will join the DCP teacher team for our 2019 Edition.
Enroll & Info: www.khalidadance.com/DCP - Limited number of participants!
More dates and events will be added soon.