Are you ready for the Next Level?
I am very happy to announce that Mr. Guy Schalom (London, UK) will be back with us @ Sarossy Studio in Würselen, DE for teaching 'Live (Tabla) Music Immersion: The Next Level' on Fr-Sa July 06-08, 2018.
A full weekend of dance and inspiration with a gifted and generous musician and instructor. Not to be missed!
Dates
Friday-Saturday-Sunday July 6-7-8th, 2018
Location
Studio Sarossy, Oppener Str. 44/1 (please use 44 for GPS, it is the building next to it) in Würselen, DE
About Guy Schalom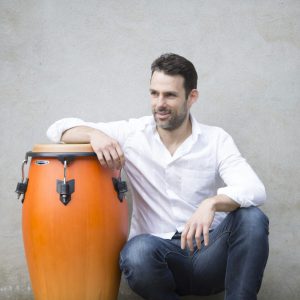 London-based Percussionist, teacher and band leader Guy Schalom has been described as "one of the most interesting and versatile percussionists working today" (fROOTS). His unique drumming style can be heard on countless movie, TV and computer game soundtracks as well as over 300 commercial CD recordings.
Specialising in Egyptian music, Guy has performed with recording artists as diverse as Natacha Atlas, the Musicians of the Nile and Hijazy Metkal to name a few. He leads renowned Egyptian orchestra, the Baladi Blues Ensemble, having released eight CDs to date with several more scheduled for release on their 10 year anniversary in 2017.
As a teacher, Guy Schalom brings together his formal musical education (Bachelor of Arts), his personal field research in traditional music and dance and over 25 years' professional "on-stage" experience.
Guy's revolutionary teaching style continues to help thousands of dancers and musicians achieve their goals at festivals and events throughout North America, Europe, the Middle East and the Far East.
To learn more about Guy's future appearances, CD releases and interactive dance and live music workshops please visit www.guyschalom.com
Concept
Fr-Sa 6-7th July 2018: Live (Tabla) music immersion weekend package with Hafla on Friday evening.
Sunday 8th July 2018: Optional Extra Workshop 'Fast Ears' (can be booked separately)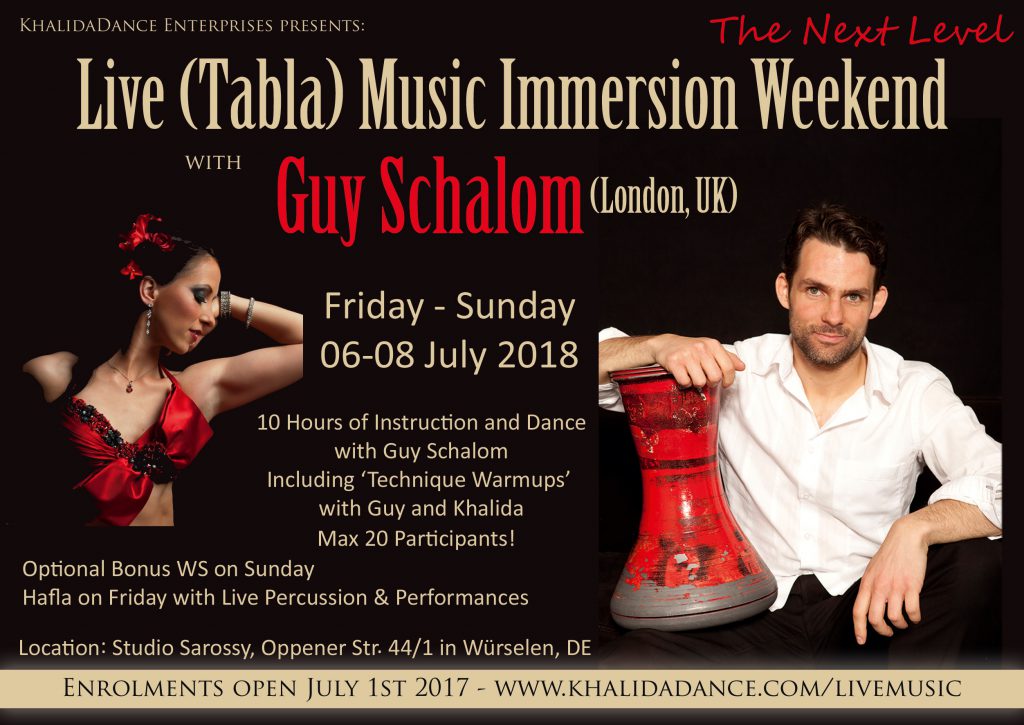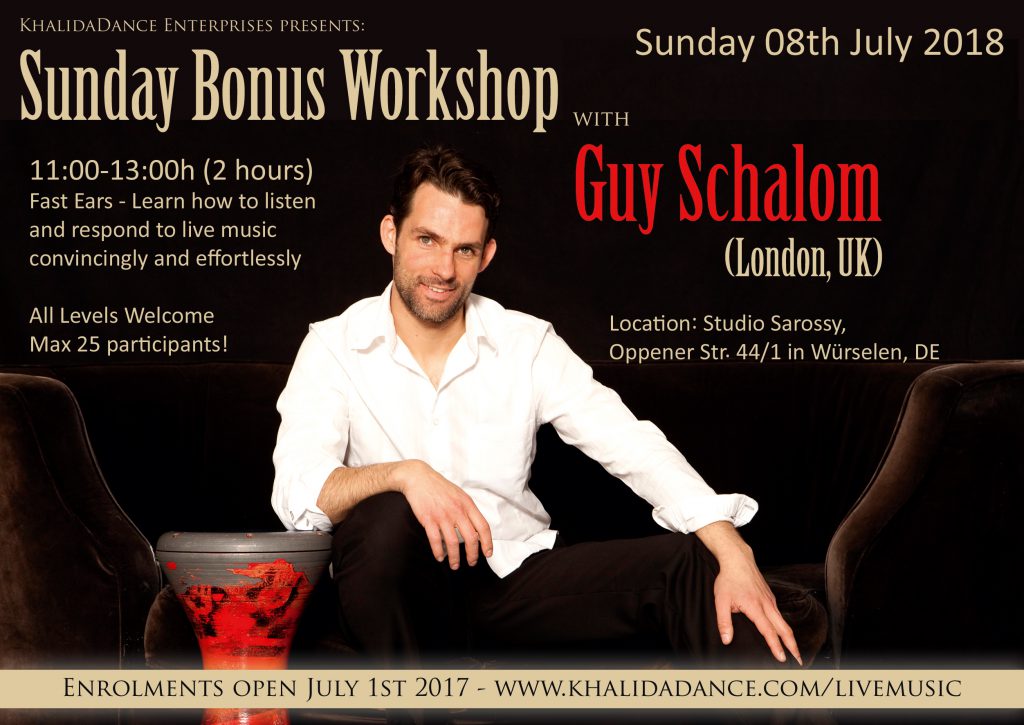 Topics Fr-Sa Immersion Weekend

Egyptian rhythms in detail; communicating with and guiding musicians; tabla solo structure and interpretation; on-stage lead and follow; musicality, performance skills and improvisation; harnessing creative flow; peak performance practice; Egyptian music in context (talk).
Topic Sunday Bonus WS

Fast Ears – Learn how to listen and respond to live music convincingly and effortlessly
Prices and Payment

Prices
Full Live Music Immersion Package (Live Music Immersion Weekend + Sunday Workshop): 330€ – SOLD OUT! Waiting list opened
Live Music Immersion Weekend (Fr-Sa inlcuding Hafla Ticket/Spot): 285€ – SOLD OUT! Waiting list opened
Sunday Workshop 'Fast Ears': 55€ – SOLD OUT! Waiting list opened
If you'd like to apply for a performance spot at the hafla please let us know via the enrolment form.
Payment

After your enrolment you will receive a confirmation email with bank details. You can opt to pay either the full amount by bank transfer beforehand, or 50% of the workshop fee by bank transfer beforehand and the remaining balance (50%) in cash on the day of the event by selecting the corresponding payment option in the enrolment form.
Refund Policy

There can be no refunds for this event. In exceptional circumstances we do allow a transfer of your enrollment, in case you find another participant who is willing and able to take your place.
Practical Info

Number of Participants

The number of participants will be limited to maximum 20 for the Immersion Weekend (Fr-Sa) and maximum 25 for the Sunday Workshop. Enrollment forms will be processed in the order they are received.
Daily Schedule (Approximation)

Friday – Saturday: WS between 10:00-17:30h – (10 hours of classses in total)
Friday Evening (time tbd) – Hafla/Studio party with performances by participants
Sunday WS 11:00-13:00h (2 hours) – Optional
Traveling to Würselen

The nearest train stations to Würselen are Eschweiler Hbf and Aachen Hbf, each about 15-20 minutes from the studio by car. The nearest airports with good train connections to Eschweiler/Aachen Hbf are DUS (Düsseldorf) and CGN (Cologne).
There might be carpooling options from DE, BE and NL for the event. After you enroll for the weekend you will get access to a (closed) 'Rides and Roomies' Facebook Group where you can connect with your co-travelers in search for roomies and/or carpool options.
If you need any advice/assistance regarding travel and/or accommodation please don't hesitate to email me via the Contact page.
Accommodation
Past participants have stayed before at BnB Würselen, a simple but very conveniently located BnB, and at hotel Mennicken and hotel St. Jobser Hof in Würselen, DE – Other Hotels/BnBs near Würselen and Eschweiler can be found via booking.com.
FB Event Page

www.facebook.com/events/1149004965194929
Enrolment Form

[contact-form-7 404 "Not Found"]
We look forward to welcoming you in Würselen, DE this July!
Testimonials

A big THANK YOU to Khalida Bech and Guy Schalom for this fantastic workshop day. Those WS for sure are among some of the most valuable classes I ever took in over 10 years of dance. We badly need more lessons of this quality. Thanks for making this day happen :)
Anna Radici, DE