I am very happy an honored to present 'Live (Tabla) Music Immersion Day' featuring amazing guest teacher and internationally acclaimed percussionist, dancer, and record producer Guy Schalom (UK) at Studio Sarossy in Würselen, DE on Sunday, 29th of January 2017
Enrollments for this unique event are now open via the form below, looking forward to it!
About Guy Schalom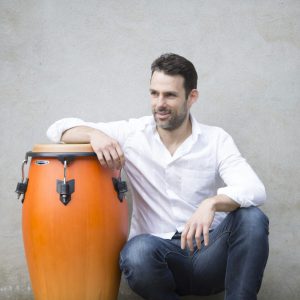 London-based Percussionist, teacher and band leader Guy Schalom has been described as "one of the most interesting and versatile percussionists working today" (fROOTS). His unique drumming style can be heard on countless movie, TV and computer game soundtracks as well as over 300 commercial CD recordings.
Specialising in Egyptian music, Guy has performed with recording artists as diverse as Natacha Atlas, the Musicians of the Nile and Hijazy Metkal to name a few. He leads renowned Egyptian orchestra, the Baladi Blues Ensemble, having released eight CDs to date with several more scheduled for release on their 10 year anniversary in 2017.
As a teacher, Guy Schalom brings together his formal musical education (Bachelor of Arts), his personal field research in traditional music and dance and over 25 years' professional "on-stage" experience.
Guy's revolutionary teaching style continues to help thousands of dancers and musicians achieve their goals at festivals and events throughout North America, Europe, the Middle East and the Far East.
To learn more about Guy's future appearances, CD releases and interactive dance and live music workshops please visit www.guyschalom.com
About the Workshops
Date: Sunday, 29th of January 2017
Location: Studio Sarossy, Oppener Str. 44/1 (use 44 for GPS) in Würselen, DE
Times, Topics and Teachers:
12:30-14:30h: Tabla Solo Interpretation & Rhythmic Awareness – Master your drum solos (Guy Schalom)

– 1 spot left!

15:15-17:15h: MPI – Musicality, Performance skills and Improvisation – A must-do for any dancer! (Guy Schalom)

– 1 spot left!
Note: You can sign up for each workshop individually, or book the full day at a slight discount.
The perfect way to kick start the new year and take your dance to the next level. Understand the music and improve your dancing forever.
Prices and packages:
Morning WS (1h): 25 E

– 4 spots left!

Afternoon WS 1 (2h): 50E

– 1 spot left!

Afternoon WS 2 (2h): 50h

– 1 spot left!

Full Live Music Immersion Day – All 3 WS (5h) : 120E

– 1 spot left!
Practical Information

Traveling to Würselen and Accomodation

The nearest city/main train station to Würselen is Aachen Hbf, which is about 10-15 minutes from the studio by car. The nearest airports with good train connections to Aachen are DUS (Düsseldorf) and CGN (Cologne). If you need any advice/assistance please don't hesitate to email me via the Contact page!
Past participants have stayed before at BnB Würselen, a pretty basic but very conveniently located BnB – Other Hotels/BnBs near Würselen/Aachen can be found via booking.com or Airbnb
Facebook Event page: www.facebook.com/events/1149004965194929
Payment Options: It is possible to enroll for the workshops/event now and pay in December, this way it will be easier for us to know how many dancers will be participating in the event.
You can opt to pay the full amount by bank transfer beforehand, or 50% of the workshop fee by bank transfer beforehand and the remaining balance (50%) in cash on the day of the event by selecting the corresponding payment option below.
Refund policy: There can be no refunds for this event. In exceptional circumstances we do allow a transfer of your enrollment, in case you find another participant who is willing and able to take your place.
Thank you! And stay tuned :)
I'd like to thank all participants of the first edition of 'Live (Tabla) Music Immersion Day' with Guy Schalom this January for the exceptional feedback, and for your warm-heartedness, enthousiasm and openness during the workshops.