MoveSpiration Crete is a 4-day crosstraining event for all levels on the Greek island of Crete – featuring ballet, bellydance and movement inspiration from other dance forms.
We're happy to announce that MoveSpiration Crete will take place on 15-16-17-18th of October, 2020 – featuring guest instructor Constanze Janssen (DE).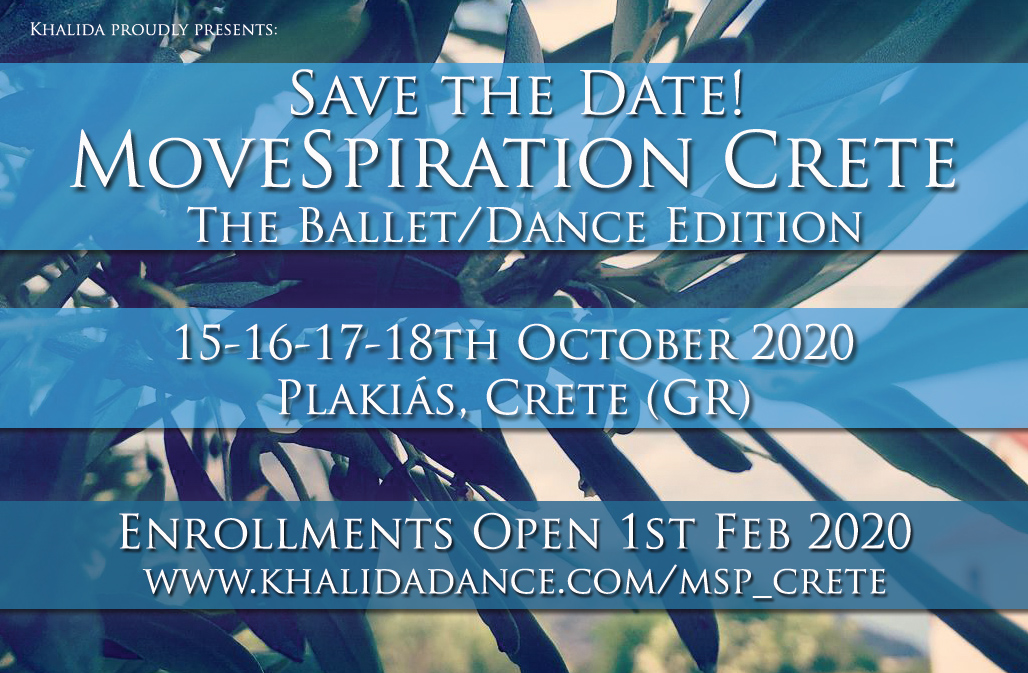 Enrollments will open on Saturday 1st of February 2020 on this page – Limited number of participants!
About MoveSpiration Crete

MoveSpiration Crete is a unique collaboration between Boženka and Khalida. The weekend is held at Boženka's beautiful studio by the sea in Plakiás, Crete and is organized by Khalida.
The 2020 edition features classes by Khalida, Boženka and Constanze Janssen as well as a demo night on Saturday, with an opportunity for participants to perform.
A weekend of ballet, bellydance, and movement inspiration from various dance forms, sharing experiences, dancing and learning together and meeting new friends in a beautiful and relaxing environment. MoveSpiration Crete aims to bring together an array of dancers of all levels from all over Europe with a shared love for movement and nature.
We welcome dancers from all walks of life to join our community of those who find joy in movement.
Dates

Thursday-Friday-Saturday-Sunday 15-16-17-18th October, 2020
Price

595,- EUR
MoveSpiration CRETE 2020 includes:
A sunset welcome drink by the beach on Wednesday evening.
16+ hours of dance and movement classes by Constanze Janssen, Khalida and Boženka at Boženka's Studio by the Sea
Daily vegetarian lunches at the studio on class days (Thursday, Friday, Saturday, Sunday)
Hafla/ Studio party with optional performance opportunity for participants on Saturday evening
Airport pickups and dropoffs on Wednesday 14th and Monday 19th October 2020 respectively
Main Guest Teacher for MoveSpiration CRETE 2020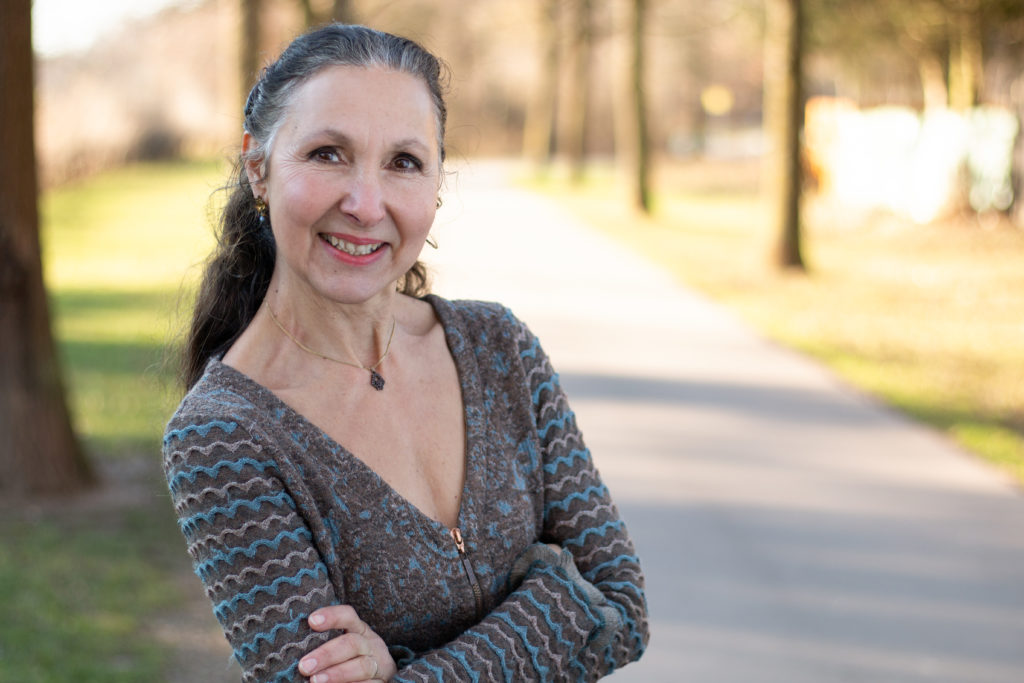 Constanze Janssen began her ballet studies at the ballet school Renoldi and the children's ballet at the Aachen Stadttheater. In 1977 she was motivated by the ballet master Peter Schnitzler to make the entrance examination for Bühnentanz at the Rhineland University of Music in Cologne.
In 1980, she received a scholarship to the Hochschule für Musik und Theater in Hanover. Here she completed her final examinations in 1983. In the same year she moved to Paris to join Bruce Merrill at the Center de Danse du Marais in Paris. There she also worked as a teacher under his name.
Constanze danced at the Staatsoper in Hannover, at the Aachen Stadttheater, at the Wuppertaler stages at the Stadttheater in Freiburg and at the Modern Dance Company Ici in Paris in various productions, among others. in The Nutcracker; Coppelia; The Phoenix; Gymnopedie; The Wildschütz; The bat; My Fair Lady; Candide and West Side Story.
Her teachers and choreographers were Leonie Renoldi, Peter Schnitzler, Peter Sardoç, Alan Howard, Gundel Eplinius, Franz Ziegler, Dieter Klos, José Limon, Bruce Merrill, Lothar Höfgen, Sèrge Manguette, Joanna Jankowska, Hans Pop, Dick O'Swanborn and José de Udaeta.
In 1994, she founded Pas de Chat in Montecchio nell'Emilia, Italy. There she choreographed every year for the Summer Estates Festival. During this summer festival, Tchaikovsky's nutcracker was performed under her direction and direction. In 2003 an invitation of this ballet evening followed at the theater Multisala900 in Cavriago, Italy.
In September 2002 Constanze Janssen moved to Germany to teach at the ballet school Tosca Dancing School in Memmingen, the ballet studio Gerda Buck in Mindelheim and at the First Stage Club in Augsburg. At the end of 2003 Leonie Renoldi asked her to return to the roots of her dance track to take over the management of the ballet school Renoldi in Aachen. Since 2008 she has worked regularly with Vladimir Gelvan and Sara Reddig in Berlin.
Constanze has been Khalida's ballet teacher since 2007, and she has taught ballet workshops for bellydancers as a guest instructor at our 'BOOTCAMP' event in 2012, as well as during the 'DANCE INTENSIVE' weekend in 2014 and the first 3 editions of the MOVESPIRATION Weekends in Germany in 2017, 2018 and 2019 respectively.
More info: www.ballettschule-renoldi.de
Enrollments
Enrollments will open on this page on Saturday 1st of February 2020. Limited spots available!
Tip: Sign up here to receive an enrollment reminder via email.
Location
All classes will be held at Boženka's Studio @ Mes Tin Ammo in Plakiás, Crete (GREECE)
Accommodation & Travel Tips
Destination Airports on Crete are CHQ (Chania) and HER (Heraklion)
Tip: As part of the MoveSpiration Crete experience, we are happy to – if you wish – assist you in finding transport to/from the airport in case your travel dates fall outside of the MSP-Crete -included dates (See above) as well as help you find accomodations.
Impressions of Plakiás, Crete

Our gorgeous studio location for the weekend.
Thank you!
We look forward to welcoming you in Crete this October.
Much love,
Khalida and Team MSP Crete <3